Fly Fishing Spanish Pyrénées Package:

Your stay in Spain: From 3 days' fishing and two nights for 2 anglers up to 6 days' fishing for 4 fisher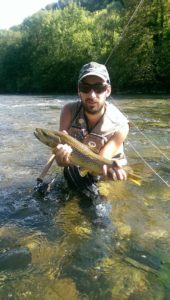 men.  I will meet you on arrival directly at Toulouse airport and take you directly to the fishing sites. We will stay in a typical 4 star Catalonia hotel next to the river offering every comfort for a well deserved restaftre a full day's fishing. A hearty evening meal will be served at the hotel's restaurant. On the first day I will either introduce or assist you in perfecting the local fly fishing techniques on the Noguera Pallaresa and Cardos rivers, known for their impressive density of wild brown trout.
The Spanish package includes:
– All local transport: Pick up and return from Toulouse airport
– Accommodation and meals for lunch and dinner
– Fishing equipment (waders subject to size and availability)
– Fishing license.
– The mentoring and guidance during fishing days.
Cost :  On the basis, for example,  of 3 anglers (3 fishing days / 3 nights): 690 € per person.
Please feel free to contact me to tailor a package that will meet with all your expectations …
Please do not hesitate to contact me directly via the website to organize your trip, tailor the package you desire or answer any questions you may have …